Cleaning Service Management Organizational Chart
This is a quick presentation and sample management structure of a commercial cleaning service. In this presentation we will show some examples of organizational charts to structure a commercial cleaning, janitorial or commercial carpet cleaning service.
As we grow especially in commercial services where its common for businesses to have 10, 20 and even hundreds of employees. We want to avoid this first slide of every employee, every customer, invoice, equipment question coming to you directly. This is guaranteed to fail eventually and create lots of stress in the process.
I think most service businesses start off this way, including me and everyone who has struggled at some point can recognize this image. This way of doing business will ultimately lead to burn out, what we want to create instead is a new layer so we are not dealing directly with 10 or 20 people but 2 or 3 managers/supervisors.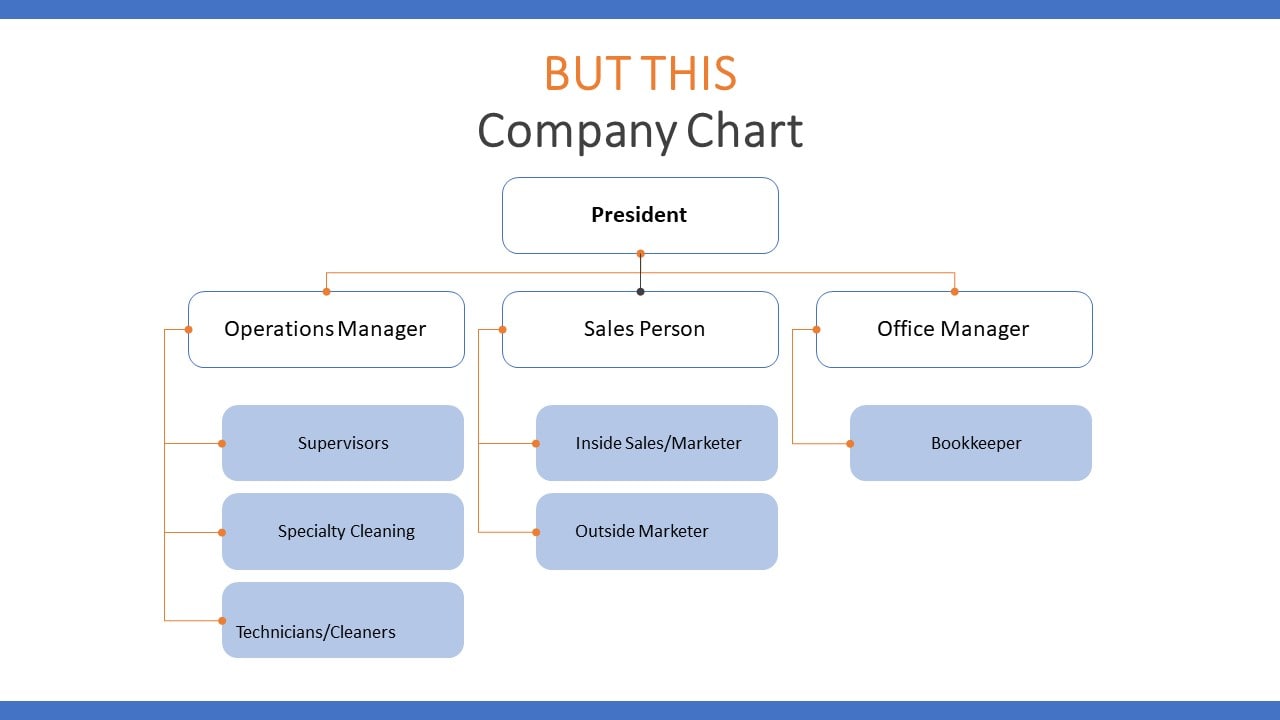 Creating A Better Management Structure
This second example is more of a traditional organizational chart for a commercial cleaning service, janitorial service. In this slide we show 3 departments: operations, sales and administration. You can see a big difference right away in this structure, instead of every employee reporting directly to you, now they report to the managers and the manager's report to you.
This is just a starting point and every business will have their own little tweaks.
The Operations Manager will have all the supervisors, team leaders, technicians, specialty cleaners and cleaning staff reporting directly to them.
Sales Person might have 1-2 assistants working for them setting appointments, sending out direct mail, emails etc. Often these can be part-time staff that either work inside sales setting appointments over the phone or outside sales/networker going door to door and attending events.
Office Manager or Administration might have the bookkeeper and 1-2 office assistants helping with employee interviews, HR, fact checking resumes etc. Note, some owners prefer to have the bookkeeper/financial staff next to them and report directly to owner and not under admin.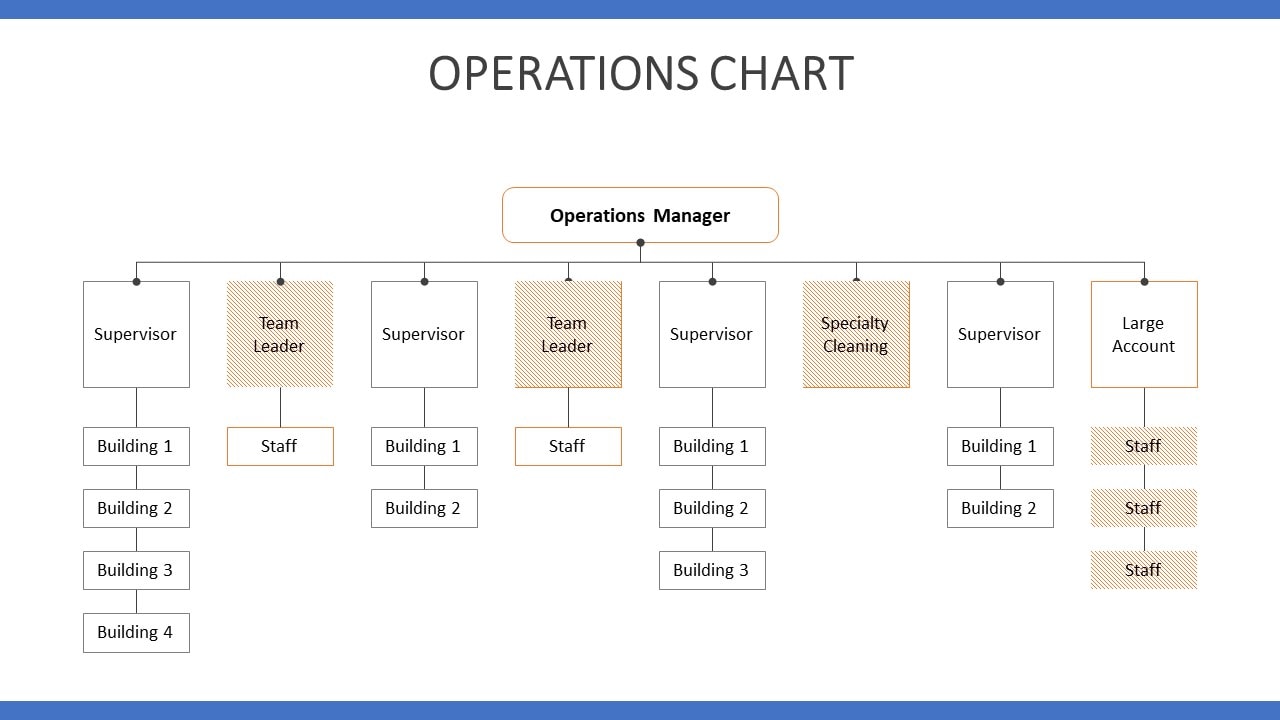 Operations Management Chart
This slide is specifically for a operations manager for janitorial services, although it could apply to the largest carpet cleaning services.  These services are very labor intensive and often have large numbers of employees, this is usually where the breakdowns occur.
In this example the supervisors have multiple buildings they will manage with responsibility for all staff, equipment, supplies needed to complete service. The team leaders are basically in charge of one building or one property, usually large customers but sometimes its because the building requires specialized knowledge.
The specialty cleaning crew which includes carpet cleaning, tile, VCT stripping and waxing etc also would report to the operations manager for instructions each night.
The point is instead of having dozens of employees contacting the manager everyday they report to the supervisors and the supervisors report to the operations manager. Instead of them dealing with 20 people now maybe its 4 or 5, a very manageable number.
Commercial Carpet Cleaning Management Structure
This last slide is focused on the specialty cleaning division but can apply to a dedicated commercial carpet or tile cleaning business. Here we have the operations manager and then all the team leaders report to them.
The team sizes will vary depending on what type of services you provide and the size of the buildings. Some teams might only require one tech providing low moisture cleaning to small to mid size accounts where other teams might require 3,4, 6 techs for large complexes and labor intensive services like VCT.
The goal is instead of having 6-8 technicians reporting to you plus your other responsibilities, you have them report to a manager and the manager reports to you. Much easier to deal with one person everyday than 8.
In conclusion these are some examples of organizational charts and management structures for different cleaning services. I wouldn't worry about following any structure exactly but having a structure so every decision doesn't fall on your shoulders.
This is a separate tutorial on putting together a sample commercial cleaning employee manual or handbook, this can be used for janitorial, carpet cleaning and commercial cleaning services